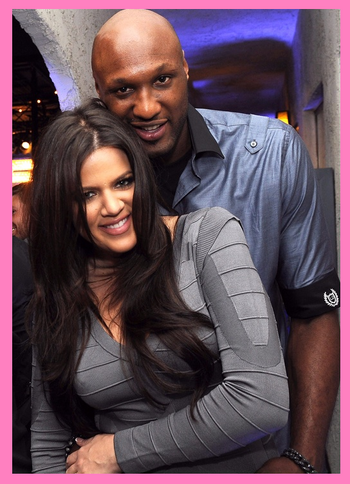 Khloe & Lamar 
is an American reality documentary television series that debut on E! on April 10, 2011 as a spin-off to 
Keeping up with the Kardashians
.
Khloe & Lamar follows Khloe Kardashian and husband Lamar Odom as they transition from newlyweds to the married life.
Cast
Main Cast
Supporting Cast
Overview
Season
Episodes
Originally Aired
DVD Release
Season Premiere
Season Finale
Region 1
Region 4
1
8
April 10, 2011
May 30, 2011
N/A
September 21, 2012
2
12
February 19, 2012
May 13, 2012
N/A
November 7, 2012
Seasons
Season 1: 2011
Season Episode
Title
U.S. Viewers (Millions)
Original U.S. Air Date
1
"The Father-In-Law"
2.54
April 10, 2011
In the opener, Khloe Kardashian pushes Lamar Odom to reconnect with his estranged father, and Lamar learns whether he made the NBA All-Star team. Khloe makes a shocking discovery.
2
"Co-dependent No More"
2.20
April 17, 2011
Khloe has to take matters into her own hands when it comes to Jamie, Lamar's best friend; Rob Kardashian starts managing girl band BG5.
3
"Lamar is a Dirty Boy"
1.59
April 24, 2011
Khloe gives Lamar and Rob a taste of their messiness; Khloe takes a look at her insecurities when she is criticised for her weight gain.
4

"The Break-Up"

May 1, 2011
1.93
Malika Haqq thinks that she is caught in Khloe's shadow; Rob is jealous of Lamar and Jamie's bond.
5
"Unbreakable"
1.76
May 8, 2011
The couple discusses creating a unisex fragrance; Malika takes another look at her relationship with Rob.
6
"The Return of Joe Odom"
1.69
May 15, 2011
Lamar tries to reconnect with his estranged father; Malika's family visit and wear out their welcome at the Odom house.
7
"Jamie 9-1-1"
1.96
May 22, 2011
Lamar fires Jamie from Rich Soil; Malika gets jealous when Rob hangs out with another girl.
8
"Baby Blues"
1.70
May 30, 2011
Khloe goes to the doctor to see why she is not conceiving; Rob finds out her got a girl pregnant.
Season 2: 2012
Season Episode
Title
U.S. Viewers (Millions)
Original U.S. Air Date
1
"A Fine Bromance"
2.57
February 19, 2012
Rob finally decides to move out, but it causes some controversy between him and Lamar. Meanwhile, Khloe looks at how to spice up her and Lamar's love life.
2
"Rock-a-Bye Lam Lam"
1.92
February 20, 2012
Lamar has trouble getting to sleep and Khloe has to take drastic measures when his night life begins to affect her. Malika breaks her own rules when she dates a man going through a divorce who also has children. She later begins to feel guilty and questions their relationship.
3
"Cuffed"
2.11
March 4, 2012
Lamar thinks Khloe treats him like a baby and sets out to change her behaviour. Rob tries to carve out a life for himself that is outside of his sisters' shadows.
4
"No Turkey for Khloe?"
1.81
March 11, 2012
Lamar gets an offer to play basketball in Turkey, but Khloe isn't sure it's a good idea. Meanwhile, Jamie tries to use his connections to land an acting job.
5
"PTSD"
1.76
March 18, 2012
Lamar learns more about himself and his father when his dad opens up about his time in Vietnam. Meanwhile, Malika wants to get breast implants, but Khloe fears she wants them for the wrong reason.
6
"The Trade"
1.53
April 1, 2012
Khloe flies to New York for an appearance; Lamar learns he is being traded by the Lakers.
7
"Alone Star State of Mind"
1.79
April 8, 2012
Lamar struggles to adjust to life in Dallas, and he takes his frustrations out on Khloe.
8
"Under Pressure"
1.71
April 15, 2012
Lamar's mental game is affected when he feels pressure to perform well on the basketball court. Meanwhile, Khloe deals with the pressure of being constantly asked when she is going to get pregnant.
9
"Lamar vs. Lakers"
1.69
April 22, 2012
Lamar faces his first game back in Los Angeles against the Lakers after joining the Mavericks, but is surprised to see the support he receives from his family and his former team.
10
"Family Reunion"
1.70
April 29, 2012
Rob comes to visit Khloe and Lamar in Dallas and decides to stay longer to support them. Khloe is upset when her mother, Kris Jenner, tries to befriend Mark Cuban, owner of the Dallas Mavericks.
11
"Compulsive Behaviour"
1.55
May 6, 2012
Rob's OCD gets out of hand in Dallas after his living situation in LA becomes compromised. Malika is jealous of Khloe's friendship with fellow NBA wife, Porschla Kidd.
12
"The Truth Will Set You Free"
1.83
May 13, 2012
After learning of her mother's affair, Khloe fears she is not a true Kardashian.
Community content is available under
CC-BY-SA
unless otherwise noted.